MIKROFONIDE PÄEV koos Soyuz Microphones asutaja David Arthur Browniga 11. mail 2019
In English below!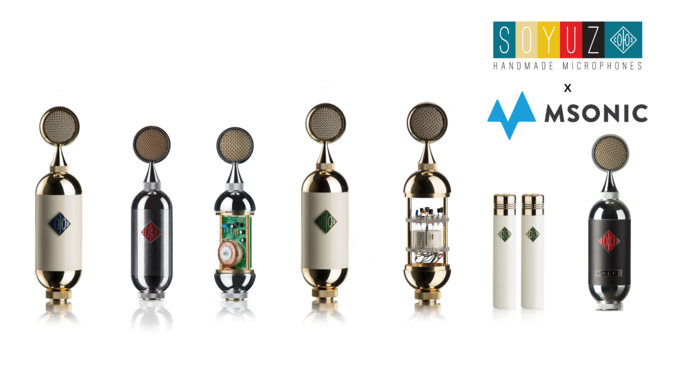 msonic Baltic ja Soyuz Microphones kutsuvad kõiki huvilisi avatud MIKROFONIDE PÄEVALE 11. mail 2019 algusega kell 16.00 msonic Baltic Tallinna showroomis Kultuurikatla helistuudios aadressil Põhja pst. 27a, Tallinn.

Osavõtt on kõigile tasuta!
Kuuma Vene mikrofonide startup'i Soyuz Microphones üks asutajatest David Arthur Brown tutvustab nende uuenenud tooteseeriat ja räägib lähemalt järgnevatel teemadel:
Mille poolest erinevad käsitsi tehtud mikrofonid masstoodetud mikrofonidest?
023 Bomblet - Soyuz'i kõige unikaalsema mikrofoni põnev ajalugu ja originaalne kapsel
The Launcher võlukarbi tutvustus, mis lisab dünaamilistele ja lintmikrofonidele 25db koloreeritud gaini
Lampvõimendusega vs. FET mikrofonid
Lisaks võrdleme Soyuz mikrofone tuntud klassikutega nagu Neumann U87 ja AKG C414 kohapeal toimuvate mees- ja naisvokaali helisalvestuste näidetel. Helisalvestus ja kuulamine toimub läbi uue Universal Audio Apollo X helikaardi ja Genelec 8341 The Ones ning S360L kõrge SPL-iga SAM stuudiomonitoride.
Naisvokaalil Kadi Toom, meesvokaalil David Arthur Brown.
Soyuz mikrofonide tuline austaja helirežissöör José Diogo Neves jagab enda kasutajakogemust.
Mikrofonide päeval tutvustame ja näitame ka teisi msonic Baltic tootevalikus olevaid mikrofone tootjatelt Vanguard Audio Labs, Townsend Labs, Coles Electroacoustics, Telefunken Elektroakustik, Mojave Audio jt. 
Facebooki üritus:
https://www.facebook.com/events/312967972718793/
David Arthur Brown on Los Angelesest pärit laulja ja laulukirjutaja, kes on tuntud ansambli Brazzaville asutaja, laulja ja laulukirjutajana ning ansambli Beck endise saksofonistina. Aastal 2013 asutas ta koos Pavel Bazdyreviga ettevõtte Soyuz Microphones, mis on kasvanud 20 töötajaga edukaks ja tunnustatud mikrofonide tootjaks. Soyuz mikrofone kasutavad näiteks Coldplay, Radiohead, The Lumineers, Paramore ja paljud teised tuntud artistid, helirežissöörid ja produtsendid.

Kadi Toom on rokkbändides laulnud alates 11. eluaastast. 17 aastaselt sai lisaks bändile alguse ka soololaulja teekond koostöös erinevate tuntud muusikutega. Kadilt on Ilmunud kolm täispikka albumit ja üks EP. Albumitest üks – "You" – on avaldatud ka Portugalis. Tänaseks on Kadi võtnud puhkust suurtest bändidest ja aktiivsest soolokarijäärist ning esineb peamiselt akustiliste koosseisudega. Aastate jooksul on avaldatud mitmeid singlilugusid, autoriteks nii Kadi kui teised Eesti muusikud, terviklikku albumit Kadi neist vorminud pole. Suurema meediatähelepanu eest on Kadi pigem varju hoidnud.
***
MICROPHONE DAY with the founder of Soyuz Microphones, mr David Arthur Brown on 11 May, 2019
msonic Baltic and Soyuz Microphones are delighted to invite you to an open MICROPHONE DAY on 11 May, 2019 at 16.00 at msonic Baltic showroom and studio in Kultuurikatel, Põhja pst. 27a, Tallinn, Estonia.

Free entry!
Founder of the hot Russian microphone startup Soyuz Microphones, mr David Arthur Brown, introduces their renewed product lineup and covers following topics:
What makes handmade microphones different from mass produced ones?
023 Bomblet - the fascinating history of Soyuz' most original microphone and it's totally original capsule
Introducing The Launcher, the little magic box that makes dynamic and ribbon mics sound amazing with its 25 dB of colored gain
Tube vs FET microphones
In addition, we will compare Soyuz microphones against well-known classics such as Neumann U87 and AKG C414 with male and female vocal shootouts. For the microphone shootout recording and playback listening session we will use and showcase the new Universal Audio Apollo X audio interface with Genelec 8341 The Ones and S360 high SPL SAM studio monitors.
Female vocals are performed by Kadi Toom, male vocals by David Arthur Brown.
Recording, mixing and mastering engineer mr José Diogo Neves is keen user of Soyuz microphones and will share his user experience.
On the open microphone day we will also showcase several other microphones from Vanguard Audio Labs, Townsend Labs, Coles Electroacoustics, Telefunken Elektroakustik, Mojave Audio and others.
Facebook event:
https://www.facebook.com/events/312967972718793/
David Arthur Brown is a singer and songwriter from Los Angeles known as a founder, lead singer and songwriter of Brazzaville and as a former touring saxophone player for Beck. On 2013 David teamed up with Pavel Bazdyrev – a young Russian businessman – and formed Soyuz Microphones to build world-class microphones in Russia. By now their company has grown to 20 full time employees. Soyuz microphones are being used by the likes of Coldplay, Radiohead, The Lumineers, Paramore and many other notable artists, engineers and producers.

Kadi Toom has been involved with rock bands since 11. From 17 she started solo career, collaborating with several known musicians and producers. She has produced three LP-s and one EP, one of them – "You" – was also released in Portugal. During later years she has released several singles, but not a full length album. As of today, Kadi is mainly live-performing acoustically.